Leak-Free
Our FLARE-O product line provides a leak free solution for very precise areas on a piece of equipment or machinery. With the addition of an elastomeric O-Ring positioned in a strategic area of the sealing boundaries, hydraulic leaks vanish. A drop-in replacement for SAE 37 Degree Flared Tube Fittings, the elastomeric O-Ring on the FLARE-O hydraulic fitting product line provides the tightest seal available on the market.
You can choose from a variety of seals, including Bune N, Viton, and EPDM. If you're not sure, our technical engineers can work with you to identify the best seal for your application.
Ideal for Highly Corrosive Environments
We manufacture FLARE-O Fittings from both carbon steel and 316 grade stainless steel. While both metals are considered reliable, 316 grade stainless steel is the optimal metal for highly corrosive environments filled with:
-Acids and abrasives - Chemicals - Chlorine-bearing agents
-Salt water - High humidity - Oil
-Gases - Extreme temperatures - Direct sunlight
From high-powered wash downs to toxic and flammable chemical combinations, stainless steel is considered the most durable and reliable based on its:
Corrosion Resistance - stainless steel alloys provide excellent resistance to corrosives at extreme temperatures and in most industrial environments. When scratched, stainless steel's exposed metal "self-heals", oxidizing over the abrasion to protect against further corrosion.
Longevity - the durability of a stainless steel hydraulic fitting reduces the need for costly maintenance or frequent replacement, providing long-term protection for your facility and optimizing your equipment investment.
316 stainless steel is a heavy-duty grade ideal for severe environments that require the highest levels of corrosion resistance including: being specified for use in marine applications as well as FDA-mandated wash downs in food processing. It's also used for submersed, under water applications because of its high-corrosion resistance generated by the molybdenum it contains.
Stainless steel FLARE-O Fittings are the component of choice for a wide range of manufacturers in industries that require the very best and most reliable hydraulic fittings on the market such as:
- Food Processing - Heavy Equipment - Trucks and Transportation
- Marine/Shipboard - Mining Equipment - Agricultural Equipment
- Bio-Diesel Applications
When Installation Is Difficult, Count on FLARE-O Fittings to Get the Job Done
These hydraulic fittings are made for those hard-to-reach areas where installation and assembly is difficult. They are ideally used in important areas of an engine or hydraulic system, where hydraulic fitting replacement entails the disassembly of the machine – not a cost-effective solution for any company. Their leak-free design and longevity make it possible to install once and walk away. This means lower maintenance costs and less downtime on your production-critical equipment.
NJ's FLARE-O fitting product line is fully compatible with the traditional 37° design. Simply use the FLARE-O in place of the standard 37° Flare Fitting for superior leak free benefits.
Don't risk a leak in your hydraulic system or an issue that will take your equipment off the job. Bank on resiliency within any application or environment with NJ FLARE-O Fittings.
Learn more about the product line or customization capabilities of NJ and contact us to learn more.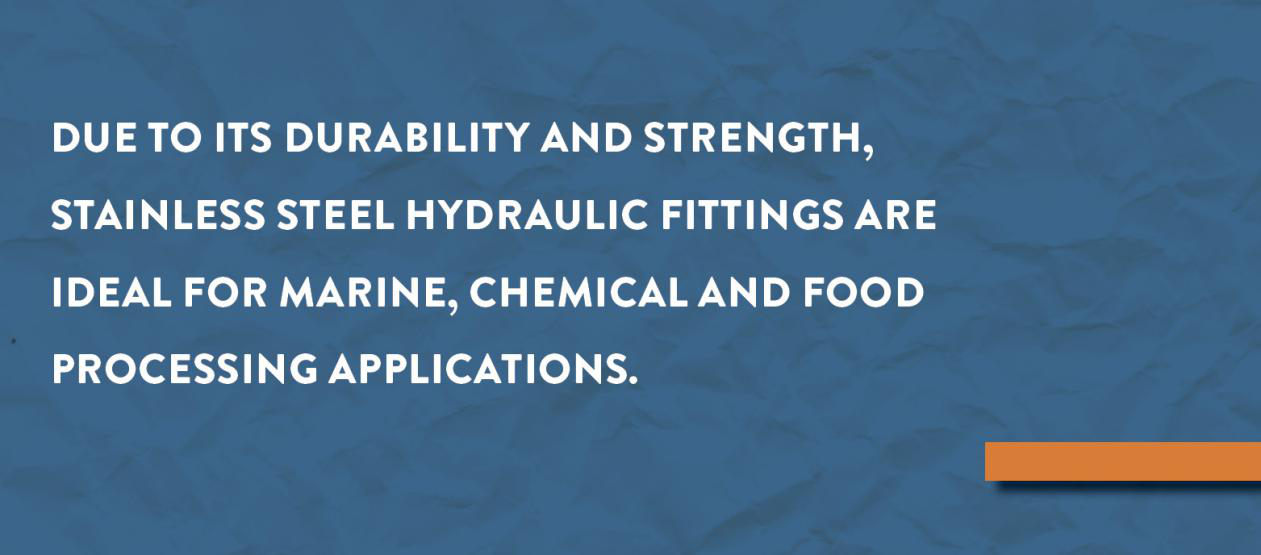 Stainless steel is as strong as it gets. With a temperature range of –425° to 1200°F, a chromium-base, and optimum corrosion-resistance, stainless steel hydraulic fittings can combat the harshest industries. NJ offers fittings made from 316 grade stainless steel, as well as steel hydraulic fittings with high corrosion resistant carbon steel platings, to keep your equipment running efficiently and effectively.
Stainless steel differs from other steels because of its chromium content. Chromium levels can vary anywhere from 16% - 18% based on the weight. The chromium forms an unrecognizable layer of chromium oxide on the stainless steel's surface, which prevents corrosion from seeping into the metal. If the outer chromium layer were to become damaged, it quickly repairs itself due to the exposure of fresh chromium, and its practically immediate oxidization. In addition, stainless steel is environmentally friendly and recyclable. It's estimated that all stainless steel objects consist of nearly 60% of recycled materials. These statistics differ tremendously from other steels, which can contaminate and corrode over time.
Due to its durability and strength, stainless steel hydraulic fittings are ideal for marine, chemical and food processing applications. At NJ, we offer the following stainless steel fitting options: nut, sleeve, straight, 90 degree, 45 degree, tee, cross and additional accessories. Read below for further information on how our stainless steel hydraulic fittings provide long-lasting support to applications that demand durability:
Marine & Boating Industry Applications
NJ has been supplying customized hydraulic fittings and adapters to the marine industry for years. We specialize in providing marine hydraulic fittings that are built to last; Reliability and durability is key in high pressure, corrosive environments.
Off-shore rigs, ship steering, power systems, and more all require high pressure hydraulic systems, where salt water, salt air and other elements are corrosive to every material used.
Chemical Applications
Our stainless steel hydraulic fittings can meet nearly every need regarding chemical applications. In addition to combating corrosion and extreme temperatures, our stainless steel fittings can also benefit cryogenic applications, high-pressure handling, and maintaining product purity… All of which, are ideal for handling chemical applications.
Food Processing Applications
Hydraulic drives and other hydraulic systems are used in food processing plants worldwide. Some food processing facilities use different types of hydraulic fluids including mineral oils, synthetic oils and other blends depending on the specific application. Stainless steel fittings are a good solution due to the potentially corrosive environments associated with some processes.
Plating Options for High Corrosion Hydraulic Applications
In addition to stainless steel fittings, we offer three primary plating options that also deliver high levels of protection. These primary plating options include Electrodeposited Zinc, Electroless Nickel, and Zinc Nickel.
Regardless of your hydraulic application, NJ has the proper type of fittings and solutions you need. Browse our catalog to view our wide selection of fittings, or request a quote for custom hydraulic fittings today.